Adrien Lastic Touche Powerful Finger Sleeve Vibrator

This is an all-time favorite sex toy for us. Keyword: US. Although this may be a great toy for a woman's solo session, most of our reviews are about how we use an item as a couple. And this is perfect companion for our oral sex sessions.
For me, making my wife orgasm started with clitoral stimulation. It was the only way she knew how to cum and I had no experience myself. So Venice walked me through how to move my tongue around her clitoris and mimic how she would make herself cum with her fingers. This was literally done hands on, pun intended. I can still remember coming up from between her legs to ask her if I am doing it right and what I should do next. I also remember her pushing my head back down and saying, "Just keep doing what you're doing and stopping to ask me questions!" This was pre sex blogs and websites that go into detail how to perform oral sex. So we were on our own.
A few of her requirements during oral sex:
A single finger putting pressure inside her (and this requirement works GREAT with this Vibrating Finger Sleeve)
Her playing with her own nipples
My tongue circling and gently flicking her clitoris.
There are a lot of variations and different things we can do during oral sex, whether it be anal cunninglingus, sucking on her lips, licking deep inside her, or various other things, but the 3 requirements above are how we settle down and hit our rhythm.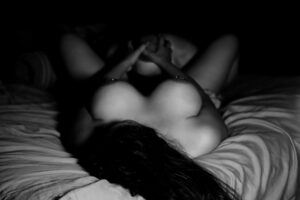 Over the years Venice's body has changed and how she orgasms has also changed, but oral sex will always have a special place for us. And our technique is pretty simple: a lot of clitoris stimulation and a single finger inside her. And this is why we loved the Finger Sleeve Vibrator.
The G Spot is a tricky thing. Regardless of how well you think you know a woman's anatomy, the G Spot pressure point seems to move around inside a woman and these erogenous zones can change depending on where a woman is in her monthly cycle. I have a specific spot I love to massage, directly under the clitoris inside her vagina. It feels like a small muscle and I rub back and forth and feel it get extremely hard during her climax. I believe this is the underside of her clitoris, so she enjoys this stimulation. However, I also rub the G Spot, which is a bit higher up from the area I like to focus on. So to make sure my wife gets the appropriate stimulation, I tend to move around and rub back and forth. Venice really enjoys this and has grown accustomed to feeling this stimulation. If I keep my finger still or do not stick a finger inside her during oral sex, she will usually request it at some point in order to reach her climax. Well, this finger sleeve helps me hit both of my spots at the same time. It extends about an inch deeper than the tip of my finger. So I can rub the area that I tend to focus on, while at the same time the vibrating tip of this finger sleeve will rest on the G Spot. Absolutely perfect!
This gadget (yes, this is a gadget) is just all around neat. The rechargeable battery and controls are a watch-like device you wear around your wrist. It actually feels like wearing an iwatch. You press the button and it vibrates the finger sleeve. There is a small wire that runs from the watch to the sleeve. Much like most vibrators, you can change to 10 different vibration modes and figure out what works the best for you. I felt like a little boy learning to eat pussy all over again because I would stop licking and ask my wife which mode she liked the best. She responded back by pushing my head back down between her legs and saying, "Just keep doing what you're doing and stopping to ask me questions!"
Venice:
This sex toy was probably one of the most pleasurable toys I have tried since the Hitachi wand. It has a real-life use case for us in our normal sex life. It feels comfortable, it hits the perfect spot, and unlike putting a vibrator on a penis or dildo, the man can put his finger on your erogenous zones and really hit your spot. It didn't make my actual orgasm better, but it did make my sexual high prior to the orgasm much better! And that sex high is why sometimes I prefer oral sex over actual sex. During oral sex I can enjoy a prolonged relaxing sensation prior to my climax. And this finger sleeve definitely helps my body release the endorphins and oxytocins I normally get during the climax build up. I love this freaking toy!
Other information:
This finger sleeve can be used like a bullet or small vibrator. If a woman is good with her hands and enjoys moving her fingers around her vagina as she masturbates, this finger sleeve gives you a bionic finger. Although we did not use it for self-pleasure, I assume this thing can please any woman who likes the vibrating sensation directly on her clit. The modes are powerful and this finger packs a punch!
The battery is not inside your vagina! Need I say more? A lot of wireless devices have the actual battery inside your vagina, especially the other finger sleeves I have seen. If you have ever had a phone melt in your hand because of a bad battery, then you know why this is a good thing. The battery is the watch. GREAT design.
I used to think the Nintendo Power Glove was so bad ass. Now I have a bionic finger!
---
More Information and Price:

$67.99
Buy Adrien Lastic Touche Powerful Finger Sleeve Vibrator Here
Website product Description:
Adrien Lastic Touche Powerful Finger Sleeve Vibrator
The smallest and most powerful vibrating finger on the market. Touche is a small and powerful finger sleeve with vibration function. With its round and wide fingertips, you can more easily touch your G-spot and enjoy new happiness.
This wonderful vibration sleeve is available in two sizes. It is suitable for any finger size. It fits perfectly with your fingers and provides enhanced stimulation. It is very suitable for foreplay, sex or personal use.
Your body is a treasure, so you need a toy to help you take care of it. Touch becomes a part of your hand, and perfect positioning and placement becomes very easy and pleasant, thus enhancing touch, massage and play, whether as a partner or alone.
Made of Silica Gel, safe and non-poisonous.
Finger massager, control in your hand!
With a nice and disguise appearance, handy and portable.
An intimate sex toy for masturbation & foreplay, for girls & couples.
It will bring a lot of fun, for yourself & your lover.
Specification
• Material: 100% Premium Super Soft Silicone and ABS
• Modes: 1 Powerful Motors,10 Vibration Modes
• Battery: Lithium battery
• Weight: Large:235 gr
• Size: 8.9 cm X 2.2 cm
• Rechargeable: Rechargeable by USB Cable
Even though we are not affiliated I still wanted to give a big thank you to Honeysx for this one! Customer service has been quick, shipping was fast, and so far we have had a top-notch experience working with this sex toy store. The biggest perk for me is that they do take payment through Paypal, which is a company I trust with my financial information. If you are looking for a new toy, make sure you check out their inventory. They have a lot of things I have never seen in my life (see our last review).
---
We are not affiliated with Honeysx and get no revenue from this review. Our goal isn't to make money promoting things in hopes you buy it, rather we are just sharing our reviews on products we have tried and want to share with our readers. This item was sent to us as a promotional product under the terms and condition that if we did not enjoy the product, we are not obligated to write or publish a review. All reviews are just our opinions and experiences.