QIUI Cellmate 2 Electric Shock Male Chastity Device

In the past, we have tried a chastity device in the form of a metal penis cage. Chastity devices are a fun way to BDSM role play and show your commitment to your woman. What was even more fun was my wife sitting on my face and turning me on, but my penis unable to get hard due to the cage restrictions. This restriction is intense. My shaft skin was swollen and nearly melting through the bars. Because of this, I was still able to cum from my wife licking up and down the cage (and her tongue still able to rub my penis skin that stuck out through the bars). A pretty crazy experience to say the least.
The problem we had with this metal cage was throughout the work day the cage made metal "clinking" sounds as I moved around. This was because the ball area that locks the testicles in (this is actually what holds the entire chastity devices into place) to the shaft portion of the cage, rubbed together. Remember, this is a chastity device, so the entire role play is based on her controlling my dick throughout the entire day. So I wore it to work. I'm sure my co-workers couldn't figure out why it sounded like I had a huge set of keys in my pocket, "he's not even a janitor though." The truth is, the cage was extremely bulky, created a huge eye catching bulge (the grundle gazing was intense, by both men and women co-workers), and made too much noise. Also, as my balls began to sag throughout the day, the metal cage slowly shifted down off my penis. Although the size wasn't too small, the cage length is totally dependent on the testicles holding everything in place. So the more your testicles sag, the more the cage slowly slid down your shaft. This is a bit difficult to explain if you haven't tried one for yourself. So try it.
Anyway, we ended up using the cage for a day, had oral sex with it on that night, and once my wife unlocked my cock, she never locked it away again.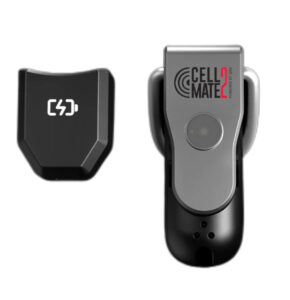 Enter: QIUI Cellmate 2. This isn't a cage, it's a penis shock collar. This is a total control device that allows your partner to monitor every move you make (or your penis). If you try to take it off? She knows. If your penis gets turned on and begins to grow? She knows. Not only does she know, she can shock you into submission if you are not behaving. What's even better? Everything is totally controlled through the QIUI app, even the unlocking. That's right, there is no key that you can lose. If she doesn't release you, you aren't getting out. It's as simple as that. Talk about power. This is something every woman should lock her man into if she is DOM.
In my experience, the device fit much more snug on my penis (there are two sizes to choose from) that the cage I used because the app-controlled bar that locks the scrotum into the device is a tight fit and regardless of how saggy your testicles get, it stays in place. This device is the real deal when it comes to total control. The only pleasure I could receive in this thing was mental. Knowing that no matter how turned on I got, I wasn't going to get a release unless she released the device. Not only can this thing prevent you from having an erection, if my wife noticed that I was getting swollen and turned on, she could shock my penis back into it's shriveled state. Even though the shock isn't bad, it's definitely noticeable. There is also different modes such as vibrate so it doesn't shock, but instead vibrates.
So did this device shock me into submission? Did it keep me from orgasming? Yea right. Although this device kept me from getting stimulation through the penis, the anus is still totally in play. And this is the perfect time for your partner to explore your prostate and dominate you into cumission through pegging or fingering you. Which is exactly what we did.
And what's so sexy about that? Well, the QIUI Cellmate 2 has a nice sized penis hole that allows your semen to put on a show when it drips out. My wife loved it. This hole also allows you to use the bathroom during the day while locked up.
So if you are in the market for a chastity device that can be great for training and teaching a man to appreciate anal pleasure, take all control from him and his penis, and enjoy BDSM role play, this is the one.
Extra things I noticed:
The QIUI app keeps track of any time the cage is unlocked. So if you were to grab your partners phone and unlock yourself, she can check her account history and it shows when and where you were unlocked. In other words, there really isn't a way to take off the chastity device without your Dom knowing.
The QIUI app also seems to have a community feature where you can have random people all over the globe using the app vote on a post you make. The more votes you get, the longer you stay locked in. You heard that correct, the app actually forces you to keep your penis locked in depending on the amount of votes users give (of course the original post is voluntary, so the person decides if they want to ask the community to keep them locked in).
I panicked a bit when unlocking my device and it didn't seem to respond. On my device, I had to move the rod that locks in my testicles forward a tad, to get it to unlock freely. For a second I thought I was going to have to break out a sledge hammer and bolt cutters.
Admittedly I am not into pain, shocking, or locking my junk into a device that has a battery. When you are locked in, you are LOCKED in. Be careful with this type of device as if you have to put on warning labels on packages because it contains a battery, maybe you should take heed to that when you are putting it on your package.
---
More Information and Price: $

136.99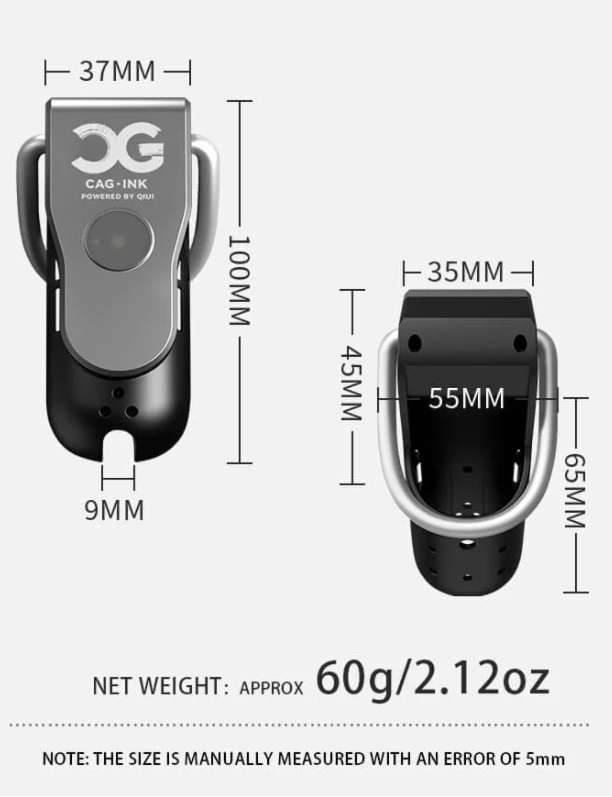 Website product Description:
Cellmate 2 Suitable for BDSM Training and has remarkable characteristics.
1. APP control no need to worry about finding keys, unlock and punish any place with internet
2. Timed electric shock wake up the penis according to your preference
3. Three modes vibration tremor: and acupuncture are different every time, making people look forward to and scared, and play bdsm to the extreme
4. Timing unlocking no need to connect to the network, after setting the timing unlocking, the lock body will automatically open.

STEPLESS ADJUSTMENT
The cardinal testicle is the biggest problem of the chastity cage. After two years of painstaking research, the designer has created an original six-stage adjustable ring. No matter your size, there is nowhere to escape
Ergonomic Design
The device is only 80 grams, comfortable to wear, scientific porous design, breathable and comfortable, so that you can wear it for a long time. Whether you go shopping mall, at work or by bus, without affecting and no embarrassing
Stomatal Design
Multiple ventilation holes let your dick breathe freely without being stuffy
Urinating Mouth
The unique curve design is more suitable for your penis, the large opening urinary tract design, splash-proof, easy to clean
Matte Material
Made of environmentally friendly soft rubber skin-friendly, hypoallergenic, lightweight, rubber coating on the surface, strong and comfortable suitable for long-term wear
Fast Charge Mode
Equipped with rechargeable lithium battery, wireless charging card holder, realizing wired and wireless fast charging, don t worry about the trouble of running out of electricity
IPX6 Waterproof
in the bathroom or pool to use wherever you want, to enjoy different orgasm pleasure, more experience, enjoy the sexual time, so your dick presumptuous love and enjoy!

Specifications

Long size: 12*3.7cm weight 80g
Short size: 11*3.7cm weight 60g
---
We are not affiliated with honeysx and get no revenue from this review. Our goal isn't to make money promoting things in hopes you buy it, rather we are just sharing our reviews on products we have tried and want to share with our readers. This item was sent to us as a promotional product under the terms and condition that if we did not enjoy the product, we are not obligated to write or publish a review. All reviews are just our opinions and experiences.