Q & A: My Husband (almost 5 inches in penis size) offered to wear a big strap on to see if I could orgasm. Should I?
I've never cum from PIV sex with my husband but I cum easily with my magic wand. My husband also has difficultly cumming in me from PIV sex because I feel loose to him. So we usually just skip PIV sex and mutually masturbate.
My husband knows he's small and it bothers him. A few months ago he asked me if I ever cum from PIV sex with other men before we were married and I told he truth that I had. One guy I dated who was about 7" would hit a spot that would make me cum almost every time he fucked me.
My husband told me he was sorry he couldn't make me cum like that and I explained that I cum harder from my vibrator than I ever have from PIV sex and that there's more to a relationship than just sex, but I can tell it still bothers him.
So a few weeks ago, out of the blue, he tells me that he sometimes fantasizes about having a big dick and watching it going in an out of me and asks me if I would let him fuck me with a big strap on so he can experience what it would be like to fuck me with a big dick.
The thought of being fucked with a big dick does turn me on, but I'm worried how my husband would react if I cum from him fucking me with a big strap on. Would that make him more insecure about his small cock or will it make him feel better knowing he can make me cum by fucking me?
Venice's response
to big strap on?
I believe you should look into penis sleeves. This sleeve actually fits over your husband's penis like a thick condom and will make his length and girth much larger. Personally, I think you should do anything in the bedroom that can make your sex lives better. Dildos, toys, sleeves, and even other people! If it is something he is open to try, try it. If it makes you cum, awesome! Just because it's a sleeve does not mean your husband should feel insecure. Since you are already self-conscious about the idea that the sleeve may make him feel inadequate, prepare him mentally. Make sure he understands that its him making you cum, not just the sleeve. The feeling of the sleeve, plus the comfort you feel with him, being in love, and wanting to enjoy him. It's not just pure size giving you that orgasm, it's him and the size. You love him, so even if that isn't true, it doesn't hurt to emphasize it's not just the size.
Personally, when I tried to go larger, I hated it. Maybe it didn't feel natural, or it just poked me too far in the back, but I just didn't enjoy it. After a few minutes I asked him to please remove it. For the record, I also do not enjoy penetrative dildos and things of that sort. I do enjoy vibrating toys, but just on my clitoris area.
Ryan's response
to big strap on?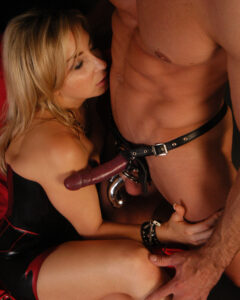 No matter a man's size, some of us go through this phase. I did. It wouldn't matter if I was almost 5 inches or 9 inches, the idea of your penis being bigger and seeing your woman take a larger size is a turn on. Porn and various photos that float around on social media show huge 12 inch men. We see some women swoon over it. So why wouldn't any size man want to add a few more inches in girth and length and see what it would be like? Penis sleeves allow this type of experience, so why not? I say go for it.
Although my experience wasn't a super sexy experience, it was still an experience. I saw my wife in pain, I felt her put her hands on my hips and crawl away from me. It was everything that you never see in porn. A big ass dick that doesn't really fit comfortably inside a woman, causing pain. If it was real, maybe she would put up with all the pain and things that go with being that hung, but with a fake sleeve? She asked me to please stop and I did. We haven't tried it since. In fact, she was turned off to the idea of anything other than a real penis inside her body. It just wasn't her thing.