After a little over a year of our memoirs, I decided to go back and organize a little better.  Below, I have redone the table of contents with links to each article.
Our Threesome Memoirs:
1         Bisexuality
1.1      My Awakening
2        His Story
3        Listing Ads on Dating Websites
3.1     Angry Lesbians and Studs
3.2    Crazy Men
3.2.1 Men Pretending To Be Women (Pat The Squirter)
3.3    The Man Hating and Pushy (Edith the Cat Lover)
3.4    The Young and Flaky
3.5    The Shy (Shai Wan)
3.6    The Intimidating (The Good, The Bad, and The Ugly)
3.7     Finding The Third (The First Meeting)
4        My First Kiss
5        Our First Threesome (Venice's Perspective w/ Ryan's commentary)
5.1     Our Second Threesome (Ryan's Perspective w/ Venice's commentary)
5.2     The Secret Lesbian
5.3     A Threesome From Every Perspective
5.4     A Different Type Of Double Penetration
5.5     Giving Him A Double Blow Job
5.6     The Naughty Lunch Break
5.7      I Fucked A Girl With A Strap On
5.8     Tasting His Cum On Her Pussy
5.9     Our First Sleepover
5.10   Foxy Brown
5.11    The Break Up
5.12   Face Fucking
6        Is My Wife Really Bisexual?
7        The Women I Want
8        What Is A Unicorn
9        Coming Down From The Threesome High
Extras:
What NOT to text your possible threesome partner
The DOs and DON'Ts
How To Have A Threesome (Parody)
What If Your Wife Wanted To Have A Threesome With Another Man?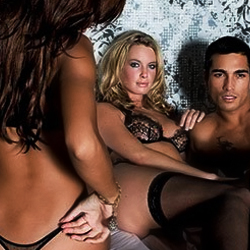 There are a few more experiences that are in the drafts that we may share, but today I am going to share our last experience.  Do I mean our last experience as in never again, or last as in the one that chronologically happened last?
Let me just go through the experience and if you make it to the end, you can help me decide what it all means.  I'm not going to glamourize this experience or make it seem like a steamy hot threesome.  I am going to describe what happened, and while it happens, I will try to take you through the other thoughts that run through my head.   With each threesome I've written about, there have been small moments where I leave out how I really feel, and instead focus on writing the experience as detailed and steamy as possible.  Because this blog is also a diary of our experiences, we'd prefer to read back one day and smile at the things we've done.  However, I have enough of those moments and I am not a sex author, so I will now do what I do best, and analyse my thoughts.  It's important to remember, I am not talking about Venice or her thoughts at all.  How I feel, what I feel, may seem a bit narcissistic, but my selfish reasons for having a threesome isn't the same as Venice's. I will try to explore why I am having a change of heart towards threesomes and really no longer interested.
If you are easily annoyed or do not want to read a story with someone complaining, stop now.  I've written about many of my experiences in only a positive light, so if that's the type of thing you want, check out the rest of the the stories on the table of content.  This story isn't going to flow very well, as I will stop to share my thoughts.
Venice is bisexual.  As far as I know, she enjoys women and doesn't just enjoy them to be hip or cool in bed, she enjoys them much more than I do.  She loves eating pussy, she loves being eaten by them, and she loves the experiences. Not only that, she loves sitting on their faces and dominating them. She also enjoys whispering different things she'd like to see them do with my dick and watching.  When I say bisexual, I do feel she prefers a man and woman at the same time.  I've offered to let her meet up with one of her girlfriends when I am was out for the weekend, and she declined.  I am unsure if she could ever really enjoy being with just a woman, and I've noticed in all our experiences she isn't satisfied until I'm satisfied.  I am also unsure if this her wifely instincts or during the threesome she still sees her man's orgasm as the finishing moment.  This is my take on what she enjoys or loves, but that doesn't mean it's totally correct.  Maybe she will blog what she feels later, but she isn't as introverted and enjoys the moments a lot more than I do.
So I let Venice read over the last few paragraphs and asked her if she enjoys the moment more than I do.  Before she answered, I explained to her that I think I enjoy the thought of getting another pussy, having two women at once, or after we are done, feeling like this stud that has a wife that is open minded enough to let us do this type of thing without hating me.  I tried to explain it's those thoughts that are the most thrilling for me.  However, the moments, not so much.  She said she enjoys the moment, but has no way to judge who enjoys the moment more.  With that being said, I think she also has a few negatives she deals with during our experiences.  I don't think she is proud that her husband is with other women.  I do think she likes the idea that her husband and his dick are the center of attention at times during the threesome, as in some ways it attracts her to me.  To see two women, or to think about two women enjoying a man is very erotic.  To know that he is yours and after the experience, you can totally have you way with him is exciting. But then again, to share what is yours, isn't really something women enjoy doing.  In fact, most women absolutely hate the idea of sharing their husbands with other women.
Okay, I'm not going to get anywhere trying to analyse both of our thoughts, so let me try to see if I can describe my experience while explaining what is really going on in my mind.
We meet a sexy woman through a social network and she seems extremely interested in hooking up with us.  After talking for a few weeks we all plan to meet up for lunch and see if we want to take this thing a little further.  Wen we met, she looked just as cute as in her photos.  She was sexy, tiny, and seemed to be a ball of energy.  Venice and I both got a bit excited, and the texts that followed our meet were all sexual in nature.  We sent pictures of us, my cock, Venice's ass, and other teasing images, while she responded with pictures of herself nude. Venice and I both agreed she had a hot body and her vagina looked delicious. Perfectly shaved, no razor bumps, nice lips, and just an overall good appearance.  After teasing, the questions that follow  "What are your boundaries?"  "Is there jealousy issues if I touch your husband?" "Do you guys want a one time thing or a regular?"
For the story's purpose, let's call this other woman, Teresa.
We plan to meet up during the Christmas holidays when we will have the house to ourselves.  We all agree on a time and we wait for Teresa to arrive.
When Teresa gets to our place, we go into our bedroom to talk.  We sit around for a little bit, all kind of anxious for something more than just talking to start.  Although we were just meeting, it was talked about ahead of time and it was mutually agreed that we all wanted to fuck.  I got up out of the chair and walked over to Venice.  I leaned over and kissed her on the back of her neck.  As I did this, I reached my hand out to the other woman and pulled her closer to us.  Venice and her started kissing as I moved around to the back side of of the other woman and took off her shirt and bra.  Her breasts were not big, but still very cute.  I looked over her slender body and reached around in front of her to unbutton her jeans.  While I was taking off her clothes, she was taking off Venice's.
They laid on the bed and Venice quickly went from kissing to sliding her body down between her legs.  It didn't take long for me to look over and see Venice with her head buried between the other woman's thighs.
So far, for me, I have no problem with our experience up to this point.  The talking and meeting was fun.  The texting back and forth was fun.  Meeting and seeing the woman nude for the first time was fun. That's probably where it stops for me.  When I see the other woman in person, I start thinking in the back of my head, "I know how this starts, the two ladies will kiss.  Would I want to kiss her?"  The answer is always no.  In fact, I usually think to myself, "Thank goodness I do not have to kiss her."   The thought of kissing another woman turns me off, as I don't want to taste their breath or be close to their faces, not even a little bit.  Being that I feel so attached to Venice, knowing the girl I love and care for so much probably will have to kiss them, I feel a bit grossed out for her.  Not possessive, not jealous, but I literally feel grossed out that my wife will be kissing some woman that I myself would never kiss.  I feel the same way about eating their pussy.  I guess I am relieved Venice likes doing it, because I almost fear it.  Other than seeing the other woman's pussy in person, that is the extent  of my curiosity.  I do not want to know how it tastes, or what it smells like.  Maybe at one point in our experiences I did, but that feeling is gone.  No woman's smell, other than my own woman, will turn me on.  It's just not possible for me.
I undressed as I watched Venice eat out Teresa. Teresa held the back of Venice's head against her pussy and watched anxiously as I unzipped my pants in front of her.  I pulled my dick out and crawled over besides her face so I could put my cock in her mouth.   Venice quits eating her out and comes up to help her suck my dick.  They suck together, passing it back and forth while I watch.  Each girl takes a ball and sucks on it, then gradually works their way back up to the head of my dick together. When Venice doesn't have my dick in her mouth, she is whispering to the other girl how sexy she looks sucking dick.  This has became somewhat of a ritual for us, as every experience we have these moments.
This for me is the best part of threesomes.  In fact, at this point, this is really the only part I enjoy.  I kind of tune out my negative feelings and go numb on the inside.  This is also usually when my dick will get 100% erect.  And of course, women seem to really enjoy a man much more when he is completely hard in their mouths and hands. Their enjoyment keeps me excited, so it's easy to tune out anything negative.
Okay, that's not exactly true, I do have a negative thought that tends to go through my head while my dick is being shared, "I hate that Venice has to deep throat my cock when the other woman's spit is all over my dick too.  It doesn't seem safe to me."  So I do not go completely numb, but I tune those feelings out as much as I can.  I guess I put my enjoyment ahead of what I'd consider safe.  Not to mention, you can get every STD from unprotected oral sex, and although during vaginal penetration I always use a condom, during oral sex we do everything raw.  Not smart, not safe.  However, women just aren't going to suck dick or have oral sex with a guy who is wearing a condom.
Venice goes back down to eat her out.  This is sexy to me because this girl's body has no real flaws.  Her pussy is nicely shaved and her body is very athletic.  Teresa also liked to talk, so as she sucked my dick she would stop every now and then to tell me how big my dick was, or how she loved it in her mouth.  She would also grab the back of Venice's head and tell her she ate pussy so good.  If I wasn't mentally checking out, I'd say Teresa was probably one of the best partners we've had in bed.  
The two girls switch positions.  Venice moves to her back and Teresa is on all fours and slides her face between Venice's thighs.  I don't move anywhere, and put my dick in the new mouth in front of my cock, Venice's.   When Venice feels how hard my dick is, she tells me she wants to see me fuck Teresa. I put on a condom and get behind Teresa.  I reposition her body so her pussy is level with my cock, and begin to work my dick inside her.  Her pussy is tight and her body is small in my hands.   Putting my dick inside these women would be so much easier if I stuck my finger inside them and wet their lips with their own juices. However, I didn't want to stick my finger inside her.  In fact, as I rubbed my finger over her pussy to make sure it was nicely lathered, I felt hesitant.  I don't know why, but I did.  I was okay with having my condom covered dick inside her, but I was not okay with playing with her pussy.  I didn't want to feel the details, I didn't want to feel inside her, and I didn't want her wetness on my body.
Even when I did finally get my dick inside her, as soon as I penetrate once, I am ready to stop.  I do enjoy the idea of penetrating another woman, but that's it.  I am unsure if it's an ego thing, or if I want to penetrate them to make myself feel better.  Like, if they are going to eat out my wife, they will also have to get my dick inside them.   It sounds silly, but once inside these women, I will stroke a for a few minutes thinking of an exit plan.  Usually there is no real plan, I just pull out and head to the bathroom to wash the condom off my dick.  Of course, I also want to wash the base of my dick where the other woman's juices have made themselves at home.
I stop fucking her because my mind isn't really into it, I really just want to get oral sex from both of them at the same time.  I head to the bathroom to wash off and take my time.  I am in no hurry to be back in the room as I don't want to ruin Venice's moment.  She loves to lay back and enjoy the other women eating her out.  I finish washing off and come back to the room.  I pull out the camera and take a few pictures of the girls playing together.  This girl had a pretty pussy.   I crawled my way over to Venice's face and started face fucking her while Teresa was still between her legs.
I felt bored.
After what seemed like 10 minutes or so, I laid my body to the side of both women.  I began stroking my dick and watching them play.  Venice went back down on her and was eating her out again.  As I watched her, she was sending me a silent message with her face, signalling that the pussy was good.  She then asked if I wanted to eat the girl out with her.  I shook my head no and told her, "That pussy is all yours baby."
I was not interested in eating out anyone but Venice, and my times prior, I never really liked.  Before threesomes, I thought to myself that I would eat any girl out and love it.  Of course, I was loyal and knew it could never happen, but I didn't see eating Venice's pussy as something I'd only enjoy with her.  I was a man, I just felt like I'd want to dive in any pussy if I had the opportunity.  Boy was I wrong.  I have zero interest in eating another girl out.  Any time I stuck my face down on another girl, the only thing I could think, like with penetration, WHAT'S MY EXIT PLAN.  Other than our first experience, I stayed away from every woman's vaginal hole (and labias/lips) and would only lick the clitoris hood and clit itself. And I wouldn't do that long, if I did at all.  The first experience was the exception to all rules, as I believe Venice and I licked everything, from the ass, to the lips, to the hole, to the clit.  I don't regret that first experience, as I am re-sharing it, but I never did it again.
After Venice and the other girl are finished playing with each other, they both get between my legs and take turns sucking my dick.  Whoever is taking the shaft in their mouth, the other will lick my lower dick and balls, waiting for their turn to deep throat me.  Teresa couldn't deep throat, but she had no gag reflex and was pushing her throat against my cock so hard it was literally bending in half.  She did this a lot, and when she would pass to Venice, of course, my dick would disappear in her mouth. Teresa was a talker, and she told Venice how well she sucked dick and how hot she was.  After they passed my dick back and forth for a while, I felt my orgasm growing. I reached down to grab my own cock and started stroking.  Both girls waited anxiously for my cum, as I exploded all over their faces and my own body.  Venice moved up my stomach and started eating all the cum off my body.  The other girl stayed on my dick, and started sucking on my head and dick, eating the cum that was still in my shaft and on my cock.
After this session, which was probably one of the best orgasms (physically felt amazing — I came a lot) I have had during a threesome, I knew I didn't want to do it again.  The girl left and later texted us and I informed her that I really wasn't interested in meeting again.  Of course, this bugged her, but, I can't do anything about that.  My mind isn't into it, and no matter how good a woman fucks or sucks dick, it just doesn't feel good to my soul to have other women over, especially when I barely know them. When they are there, in the moment, I do things I really don't want to do otherwise.  So I think my next move is to just quit having other women over.  Maybe not forever, but for now.
Are threesomes like a drug addiction?
I have been working on this article for about a month and as I was writing, we had another experience with another woman.  I held off on the experience for a while, as the other girl really wanted to meet and play with us, but eventually I succumbed to my hormones.   After postponing the meet up for weeks, Venice and I agreed to have another threesome.  During this threesome, I was not there mentally and not really enjoying myself.  This wasn't the same woman as the one I previously wrote about above, but the way I felt was more of a continuation of the last experience.  Although the details vary, the basic overall vibe is the same as our previous stories.  I am including this moment, because our memoirs are our diaries, and I want to make sure to include this experience.
As we were wrapping up the threesome, the two girls were 69ing each other.  I was behind Venice, who was on top, fucking her doggy style, while the other girl was below us, eating Venice's pussy.  Every 20 to 30 strokes, I would pull my dick out and feed the girl Venice's pussy off my dick.  Although the girl below didn't know it, I knew when I was going to cum, I was going to just leave just the tip of my head inside Venice and release my semen. I knew Venice would push out my cum and let it roll down her pussy onto the girl below us.  We had talked about it previously and even posted a gif on twitter that showed a moment like it. Unfortunately, the girl below had no idea that was what was going to happen.  As I felt the cum building, the girl below was licking on Venice's clit.  As I was about to explode, I pulled out just enough so my head was inside Venice's pussy.  As my dick jerked from the ejaculation, it slipped out and slide down into the girls mouth below.  I guess this shocked the girl, or she maybe thought I was just feeding her Venice's pussy off my dick again.  But, that wasn't the case.  I was shooting out cum and didn't know the girls tongue ring got caught on Venice's clit ring.   As I pulled my dick out of her mouth, my cum was still spilling all over her mouth and face, making a real mess of things.  I started laughing to myself and stuck my dick in Venice's ass until my orgasm subsided.
The girl below us was kind of choking and her tongue ring was stuck on Venice's pussy.  Venice leaned over to the side, laughing, and the girl finally got her tongue ring free.   We all laughed when the girl explained that her tongue ring got caught on Venice's clit ring, and her mouth full of cum didn't make things easier.
It made that experience worth it to me, but that's more of a reason why Venice and I need to take a break from threesomes.  It was no longer about enjoying an experience with Venice, and more about nutting in some random girls face because it made me laugh on the inside.  And not only did I want to nut on her face, but I was doing it because I was mad at myself for being weak.  I kind of took out my disappointment on the other girl and just wanted to treat her like a hooker I suppose.  It's not really fair, but that's where my mind was at.
Sorry, this last excerpt was a bit of a random moment I included to kind of wrap up the Threesome Memoirs in one blog.  If Venice wants to include her own thoughts in another blog, that may happen.  Venice and I are not having a disagreement, and we both are okay with taking a break.  We've been with a lot of women in a years time and taking a break is a good thing.  I am not turned off by threesome photos, photos of two women sucking dick, or our old experiences.  We laugh about the things we've done, I don't regret anything, but I do feel that if I continue meeting new women, I will start regretting things.  I'd prefer having a woman we both trust and like, if we ever do anything again.  I do not want to take STD tests every time we do something unprotected, and I feel it's my responsibility to do so.
If you can make sense of this article, you're a genius.  Now tell me, is this about our last threesome chronologically, or our last threesome ever?