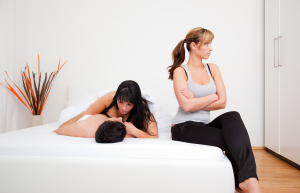 Ryan: So finally, a little bit of drama. For anyone who likes to stay clear of drama this next threesome memoir may not be for you.  If you do not enjoy hot irons flying across the room, shoes being thrown at faces, and fist fights on the front lawn, you may want to leave this blog now. This memoir is about our last experience with a girl we have spent almost a year fucking, and then the break up.  You know, the sex, the good times, the bad times, the tears, the crying, the broken hearts, the drama, and everything else that comes along with adding a new person to your relationship.
And maybe one day we will have all of the above for you to wet your chops and read through, but unfortunately, much like all of our experiences, we just do not attract drama.   I lied in the intro. That was my attention grabber.  That will probably be the most exciting thing you'll read in this blog today.  Everything we do is talked through and thought out.  Since there is no emotional attachment to the other girl, when one of us decides we no longer want to spend time with her, we no longer invite her over.   As far as friendships or relationships outside of the bedroom go, Venice and I have never had real friendships with anyone we've dealt with.
Venice:  I'm not a hit-it-and-quit-it kind of person. At least I wasn't in the beginning. My feelings changed from one female to the next and with each subsequent experience. At first, I really wanted a friendship. I wanted to get to know her as a person. I wanted to know things about her, not just what she looked between her legs. I wanted her to be curious about me, not just see me as someone she ate out every other Friday.  I wanted a friend, someone that I could talk to and hang out with with our clothes on. I thought I wouldn't feel comfortable with Ryan not accepting the the third. I wanted her to accept us as a couple, not just me accepting her for a threesome. I wanted us all to get along. Once we realized that because we were a couple, no single female really saw a future in a relationship with us (which is correct), we became more of a side thing in her life.  There are women who enjoy the thrill of joining a couple, but while single and playing the field, they possibly had more serious dates that took precedent.  Even though I am okay with this, I decided that a friendship wasn't really worth it and became the hit-it-and-quit it person I didn't want to be. I did want any girl we played with to be polite as a person. I did want her to be freaky in bed (and submissive). And I did want her to be honest, unattached, and to take care of her body, etc. It was a combination of things that could make or break a threesome relationship. Maybe it was a combination of expecting too much and not communicating these things to our threesome partners.
The past few experiences with our current girl, for me, have been pretty much a purely physical desire and less of a "let's have a date night, our treat." She was extremely flaky and half the plans we made would be broken by some last minute situation.  It's not that I felt desperate, but it's just the idea of us planning our night around her and it falling through.  We've never flaked and I began to feel resentment toward her. If we, as a couple with a family, as a couple with a life outside of getting laid, as a couple with responsibilities, can keep our end of the bargain, why couldn't she? Our experiences were few and far between and were planned out days in advance. In the least, I wanted her to show interest and initiative. When she couldn't meet us halfway, I felt myself backing away further and further with each let down. Once I'm too far back, there was no redemption.
Ryan: Let's back up a little to our last experience together.
Our last night together went like every other night we've spent together, except Venice and I weren't really excited.   During the day, we got a few text messages that suggested it was possible she wouldn't be able to make it that night.  Unlike previous experiences, we both just took our mind off the idea of her coming over and did our own thing.  The only catch, we still couldn't make other plans.  So even with us not spending our weekend night thinking about her coming over, we still had to leave the night open just in case she did make it.   As a couple, it's hard to really talk with the other female about not being flaky because you have no leverage. And this is why they are flaky to begin with.
So we stayed busy doing other things and didn't really talk about meeting our lady friend that night.  In fact, until the last hour, we both totally forgot our plans.  My phone buzzed and it was a message from our friend saying she was on her way.  I told Venice she will be here soon and we both kind of lethargically straightened up the bedroom and poured a few drinks.  We didn't really talk about what we wanted to do or what our plans were going to be.  We've had a lot of experiences with this girl so we pretty much knew we'd all end up naked and having sex.
When our friend arrived, Venice had already started the bubble bath. This has now became somewhat of a ritual for us because we are both picky and enjoy the idea of all of our bodies being clean.  As the girls hung out in the tub, I put a sexy playlist on the stereo and lounged around. Usually I leave them both alone while they enjoy a bubble bath and let them talk or play on their own.  When they were done in there, they both eagerly come into the bedroom ready to add a cock into the dynamic.  That's my job…being the cock in the dynamic.
They both came out of the bathroom nude and giggling.  Venice walked up to me, took the drink out of my hand, and pulled me off of the couch.  She got down on her knees and unbuckled my belt and slid my pants down.  She reached for my cock with one hand and grabbed her friend's hand with the other. She pulled her friend down to her knees and they both started licking and sucking on my balls and shaft. Venice took my dick and put it in her own mouth, while the other girl licked up and down the side of my dick that Venice wasn't sucking on. Both of their eyes were closed as I looked down on them and watched them work my cock.  It didn't take long for my penis to respond and stiffen in their hands and mouths.  I looked down at Venice and asked her if she wanted to sit on my face or ride my dick.  In my head I hoped she wanted to sit on my face, because no other girl had ever sat on my face, and truthfully, I'd like to keep it that way.  However, the position on my mind, with both girls on top of me, was something I really wanted to try.  Venice and I had talked about it before and she was uncertain as to whether she would want to be the one riding me or sitting on my face.  I let her know I'd prefer her sitting on my face, but I would leave that up to her.  I have licked around the clit area of some of the girls we have been with, but never licked down low on their lips, near or inside their holes.  This is actually something I'd prefer not to do.  I'd say my feelings are similar to a woman who doesn't really want you to cum in their mouth.  The same thing applies to a woman's vagina and her juices.  The last thing I want is some stranger's juices in my mouth.  I don't care how sexy she is, if she isn't my girl, no thanks.  I don't know what she did the night before, let alone a few hours before.  Plus, licking around the clitoris and the clitoral hood is fine.
Venice: With the exception of our first few experience, Ryan has always been reluctant to do much orally to other females besides flicking his tongue over their clits for a few moments. And only when I told him prior I wanted to see it. However, our first experience, we were both extremely drunk.  I remember holding that girl's legs open and telling Ryan to eat her pussy.   We both ate her out, and it was a little more than clit licking.
Ryan: What happened with the first girl stays with the first girl.  We did a lot of things we really wanted to do, while ignoring the concept of safety.  That is something we learned through experience.  You have to separate the images you see in porn or videos, with real life.  It just isn't safe to take your dick and stick in one girl raw, then pull out and stick it in the other girl, who you don't know, raw.  Rinse and repeat (except without rinsing).  It seems great to be able to go back and forth between two girls' pussies and mouths, without the concerns of washing or using protection, but is strange pussy and a quick thrill really worth an STD?
Not to me.
This is why we later got thoroughly tested to make sure we were clean and both decided we would never make those mistakes again.  I want to enjoy threesomes and our lifestyle, but I do not want to hurt my family because of bad hormonal decisions and cheap thrills.  We've both straightened up since and those first few experiences were more about you finally eating pussy, which in my opinion, possessed you.  To this day, I've never seen someone so turned on and excited eating another woman out.  You looked totally high and in a zone.   And of course, being able to experiment with my dick, feeding you the other girl's pussy off my cock, turned us both on.
Anyway, as I was saying, I have never stuck my tongue in another woman's hole or tasted her insides.  Not before Venice, not during threesomes, and not the first girl we played with either.  I may have licked up and down her lips, but I never went diving inside for the pearl. I have no idea what any other woman tastes like, and being that I have no idea what they did prior to entering our bedroom, I am okay with that.
Venice: If it smells good, I test the waters.
Ryan: That's because you love pussy more than me.  I just love your pussy.  It's the idea of two women sharing one dick that turns me on… not another pussy.
Venice: I get it.  So you were saying?
Ryan: So as both girls were sharing my dick, I asked Venice, "Do you want to ride my dick while she sits on my face or sit on my face while she rides me?"
Venice responded, "I want to sit on your face and rub my pussy and ass all over you."  After hearing her answer, I moved my dick away from the girls and reached over to the night stand to grab a condom. I slid the condom on and grabbed some K-Y and rubbed it on my cock. Stroking my wet dick I laid on the bed and Venice immediately straddled my face.
Venice: As I sat on Ryan's face I made sure I totally smothered him with my pussy.  I didn't give him any room to breath.  I was grinding my wet pussy and ass against all his features.  If I could have made him anal me with his nose, I would have.
The other girl was still a bit confused about the position and went down to suck on Ryan's dick.  I thought that was a little weird because he had a condom on, with K-Y all over it (not coconut oil because we've learned it weakens latex and increases the risks of tearing your condom).  I leaned forward and pulled her face out of his lap and told her to sit on his dick.   She giggled nervously and said, "I just hope it doesn't hurt me."
From my perspective, I was about to get a treat. I'd never watched a girl ride a dick, and I had a front row seat on Ryan's tongue. Unfortunately, it wasn't quite what I expected.  You see, I know my man and our bodies well enough that I can slide his dick in my ass while sitting on top of him without using hands.
Ryan: Look ma, no hands!
Venice: And if you think that is bragging, you're right.  Try it yourself.
Ryan: Trust me, I think it's amazing how you work your body on my cock and slide it in and out whichever hole you want without issues.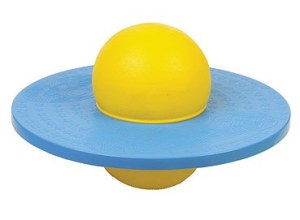 Venice: She was having a lot of issues.  I almost felt bad because she was fumbling around as if she had never ridden a guy before, trying to figure out how to get a hard dick inside her body.  I later told Ryan that it looked like a person trying to stand on one of those bouncy surf balls that looks like a little Saturn.
Ryan: I was helpless.  I thought I had my penis lubed up good,  I had an erection, and I was laying still so she could grab whatever she needed to grab and work it inside herself.  However, after a few moments of feeling her fumbling around, I felt you get off my face so you could grab some more K-Y to rub on her pussy.  After you lubed her up, you got back into position and I again was scuba diving inside your vagina with my tongue.
Venice: Again, this girl was sitting on top of Ryan trying to figure out how to get his dick inside herself.  At one point she stopped and said, "Wrong hole."
Ryan: Yea, I heard that.  I was like, "Well, put it in the right hole."  I had no control and couldn't even see anything other than your ass and pussy grinding on me.  I just think latex makes penetration a bit tougher, especially if we both aren't lubed up properly.  I'm pretty sure if she would have just blunt forced her pussy onto my dick it would have tore us both up.  I eventually reached up and spread her ass and pussy lips, then slowly guided her hips down onto my dick.
Venice: I know.  I just thought it was funny how awkward that was. From all of the pictures I've seen, this position looks intense and fun. After it got started and she finally stopped using your penis as a balance beam, it was sexy, but still a bit awkward.  She seemed to move off beat and clumsily.  Either way it's an experience, and I'd never seen another woman ride a man in front of me before.
Ryan: It felt good once it got started.  I also felt your pussy dripping in my mouth, and your body doesn't lie.  Your pussy was lathering up getting ready for your turn.  I could tell it was the clear froth that you release when you get turned on, because it was thick and sweet.  And it wasn't a little, I felt your entire pussy moisten up.   It tasted amazing.  I also loved feeling you grind on my face while she was grinding on my dick.  I couldn't really hear you guys talking because you had me straddled, but in my mind's eye, I enjoyed the moment.
Venice: As she rode, I was telling her to fuck you good and bounce on that cock.  I also told her that I was going to use my strap-on and fuck her hard after you were done.
Your tongue felt amazing.  Out of all the girls that have eaten me out, your tongue still owns my pussy.  It's probably a comfort thing, but I get totally lost in the moment while your tongue searches inside my body.
Ryan: You smelled and tasted amazing.  I love how your body just always seems so fresh.
Venice: It's the natural juices and berries of the Philippine forests.
Ryan: Shuuusshh, you've never even been to the Philippines.
Venice: My genetics have, and my DNA is made up of tropical fruits and bamboo probably.
Ryan: Anyway, after a few minutes of having the two girls grind themselves on me, I motioned for them to stop.  Venice got off my face and laid with her back on the bed and spread her legs wide open. I still had on the condom so I moved the other girl's face between Venice's legs and went behind her to fuck her from the back.
We probably stayed in this position for about 15 to 20 minutes, as Venice was set on cumming in the other girl's mouth.  Venice was grabbing the back of the other girl's head and talking dirty to us both. Gradually I felt the other girl's pussy creating more friction as her lips began to lose lubrication.  I would nicely slow down to pull my dick out and rub my wet shaft against her pussy lips and to keep her outside walls wet.  When Venice saw me slow my pace, she would demand I fuck the other girl harder.  I could tell the other girl was a bit uncomfortable and needed a break.  I could also tell Venice enjoyed seeing the other girl overly fucked and left sore.  The lube was drying up (K-Y Jelly is garbage) and my dick was starting to rub extremely hard against her lips.  So much so, it felt uncomfortable for me and was almost pulling my head through the front of the condom. Not wanting it to rip and no longer interested in fucking the other girl, I pulled my dick out and went to the bathroom to take the condom off. I knew this was probably the last time I'd fuck this girl, as it just didn't do anything for me any longer.   Without the new feeling, without the emotional connection, and with the pussy just smelling and feeling different from what I like, I just felt done with her.
Truthfully, prior to meeting Venice, I was like this with every girl I met. Certain things would turn me off and all of a sudden all of my interest in the girl was gone.  Not only was I disinterested, I almost felt repulsed.
Venice: Ryan walked to the bathroom to take off the condom and wash his dick so he could come back and use it on me.  Even though he stopped fucking her, I had both hands on the back of her head and held her face to my pussy.  I knew she had been licking for a long time, but I wasn't going to stop until I came.  There have been times where I would fake moan a little bit and wiggle, just to stop the action and move to something else.  This time, that wasn't my plan.
Ryan came back in the room and was still rock hard.  This turned me on because truthfully, even when I play with a toy, I love sucking on Ryan's dick while I cum.  There is just something about having a hard dick in your mouth when your body starts to convulse and orgasm. Maybe it makes me feel slutty, which in the bedroom I like.
Ryan: I was on both knees next to Venice's face with my dick in her mouth.  Every now and then I would lift her head up by the back of her neck and force her to take my cock down her throat until her teeth were forced to stop against my pubic bone.  Once I get all the way inside her throat, I smash her nose and face against my body.  We played like this for another 15 to 20 minutes before finally the other girl asked if she could stop.
Venice: That bothered me, because really, if you can't even get me to cum, why do I want you in my bedroom?
Ryan: I agree, but at the same time, she is there for herself, not really for us.  She isn't going to spend an hour eating you out unsure if you'll ever cum.  Like us, she has no real connection other than sexual, and she must have had her pussy fix.
Venice: I know, but still, if you can't even get me to cum, why do I want you in my bedroom?
I wasn't really happy that she stopped and definitely wasn't interested in returning the favor and eating her out.   I asked Ryan to go get my strap-on so I could fuck her pussy.
I slid the strap-on harness onto my body.  This strap-on penis is the same caramel color of my skin and about 8″ long.  It has a pair of realistic balls and is probably 2″ inches thick.  So, other than it being much smaller that I would be if I were a man, I have now used it a few times on women, and I feel I am a natural born cocksmith.
Ryan: Yea, because as an Asian man you'd be really hung.
Venice: My hands Ryan, my hands.
Ryan: Yea, your big ass hands don't make your shallow ass pussy magically big though.  You have a very small pussy, and if you were a man, I'd image you'd have a very small Asian dick.  Deal with it.
Venice: Size queen.
Ryan: You'd be amazing at math though and probably really successful??
Venice: Anyway, like I said, other than it being smaller than I would be if I were a man, it matches my body and looks very realistic.
So I laid her on her back and put both of her legs on my shoulders. Ryan was on his knees on the side of her with his dick in her mouth. I watched her suck Ryan's dick as I lubed my own cock up.  After the entire length was slippery and wet, I slowly stuck my throbbing love muscle inside her tiny little slut hole…
Ryan: …
Venice: She tried to moan but Ryan grabbed the back of her head and kept her muffled with his dick.  I went faster and harder.  All my frustration for her being flaky went into my thrusts and I had her wiggling to get away from my cock.  Finally, she got her legs closed and squeezed herself away from my dick.  I grabbed her by her hips and turned her ass over.  Ryan moved from the side of her and got up and sat in front of her with his legs open.  I watched him grab her head and push her face against his dick.
I lifted her ass up in the position I needed it so I could drill her pussy again.  I slammed my cock back inside her and she could no longer muffle her screams.
Ryan: I held her face against my dick while watching Venice pound her rubber cock into the girl's pussy.  As the girl whined I would pull my dick out and beat her face with it, asking if her is she liked being fucked by two dicks.  The girl would nod and slide her tongue down to my balls and ass.  I'd pull her up by her hair and bring her mouth back to my dick.
Venice was fucking her so hard that her entire body was shifting forward until her face was almost in my chest.  She was still sucking my dick but I could tell it was more painful that fun, because her moans changed to whimpering.  She took my dick out of her mouth and asked Venice to please stop.  Venice stopped and I looked down and asked if she was okay.  She looked up and and let us she was just extremely sore.  She said she just needed a break.
Venice: Now I was satisfied.  If she wasn't going to make me cum, I was going to fuck her until she walked funny the next day.   Plus now, I get to have Ryan fuck me and he'll definitely get me off.
Ryan: I laid the other girl on the bottom of the bed flat with her legs closed.  I put Venice over top of her, on fours, and moved her pussy up towards the other girl's hips.  This way I could see the other girl's pussy below while also seeing Venice bent over in front of me.  I stuck my dick in Venice and the room again was filled with moans.  As I fucked Venice, she told the other girl that I was going to pull my dick out and  cum all over her.  The other girl moaned and said, "Ryan can cum where ever he wants."
Venice: I was already on edge from being ate out earlier so from the moment Ryan's dick slid inside me, I felt my orgasm building.  I let Ryan know I wanted to cum first so he was hitting a steady rhythm deep and slow, making sure I could use his dick to hit my spot.  After a few minutes, I felt my body release.  I wanted so bad for Ryan to cum inside my pussy with me so we could mix juices.   However, I fought the urge because I knew I wanted to see him shoot his cum all over her.  I was also excited to eat it off of her.
Ryan: After Venice came I knew I was on the clock.  Her body stays extremely wet for only a few minutes after her orgasm.  I don't want to tear her pussy up or rip her insides, so I pumped my dick hard and fast to build up my orgasm.  I knew when I pulled out, Venice was going to jump to the side so she could get a front row seat of me spraying my cum all over the other girl.   On cue, I pull my dick out, Venice moves over to the side and I unload my semen all over the other girl's pussy and stomach.   As my body relaxes and my dick slowly drips cum onto her pussy, Venice is already cleaning her up.  I watch her take each cum shot, one at a time, and trace her tongue in the line my cum has splattered until there is no cum left.
At this point, I feel a bit guilty because we both really didn't give anything back to the other girl.  We didn't plan it.  We didn't talk prior about this being our last time.  In fact, because we were uncertain she would make it that night, we really didn't talk at all about what we were going to do.  We just did it.
Venice: I think we were so in sync with each other's moods and body language, that we both kind of knew this would be our last experience with this girl.  There really was nothing left to do.  Since we have no relationship, no connection, no real friendship besides talking dirty and having threesomes, there is no need to keep eating out the same pussy over and over.  In fact, I didn't want to eat her pussy at all.  I knew her smell, I knew what it looked like, I knew how she sucked dick, I knew how she fucked, and without a friendship and her having the common courtesy to keep her plans with us when we make them, I really don't have the need to just keep doing the same thing over and over.
Ryan: Me either.  I actually felt the same way a few experiences sooner, but waited to see if you would get the feeling yourself.   The exciting part is getting to see someone you don't know, in bed, vulnerable and willing to fuck a couple.  It's fun, it's new, it's exciting.  Without a friendship, after a few experiences, for me, it's equivalent to jacking off with your hand.  It gets old and I'd rather have one on one time with Venice than meet up with a girl who I thought was clumsy in boring and clumsy in bed.  Other than a hot little body, there was nothing else there.
Venice: So we broke up with her.
Ryan: In our minds…
Venice: Yea, in our minds.  This isn't the first time this has happened, as I think we've technically had three break ups.  And no, not all threesomes end in breaks ups.  We've had a few that were just one time things or friends just messing around, but when it gets to be a regular situation, it will eventually end in a break up.
Ryan: The best thing about breaking up without ever telling them you are breaking up is, in a few months if they call you, you can pretend you never broke up and fuck her again just because…
Venice: Yea, that's kind of what this was this time.  Haha.
Ryan:  Pretty much.
TAGS: breaking up, the break up, threesome drama, 2 girls and a guy, ffm, fmf, mff, one girl rides cock while the other sits on his face, strap on sex, lesbians and strap ons, bisexual female