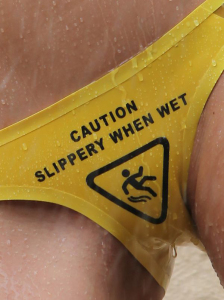 So I've learned how to open the faucet in my vagina and let the fluids flow.  That may sound silly, but it's not something I've known about my whole life.  I'm unsure if my body went into overdrive and started dripping uncontrollably while I was learning to deep throat, or the few rare times prior I would accidentally wet the bed during sex.   Maybe my hormones and body just changed with age, and the urge to want to learn to deep throat a penis I had sucked on for years was also part of that change?  Whatever it is, I can still remember gagging on Ryan's cock trying to force it down my throat, while my vagina dripped clear froth onto my own ankles.  My body fluids were leaking, I wanted to feel a dick in the bottom of my throat, and I was excited by the idea of wetting the bed like I was a young child with a bladder problem.  I've changed so much without really having an explanation.  However, I have learned a position that always gets me soaking wet.
First, I need to straddle Ryan, and his penis needs to be fully erect. In fact, so erect that it has to hurt my body because the head is hitting my back walls.   This is when I will move my body back off his penis, so the head is no longer in the very back, yet the angle is so intense Ryan's hard shaft grinds the area directly underneath my clitoris.  Some say this is the g-spot.  I'm unsure if that's true, but this technique opens up my flood gates every time. I once said that if I were a man, this would be the equivalent to me milking my prostate.
Why am I blogging about it?  Why not.  My experience yesterday was good enough that I wrote about it, and one of the main things I enjoy is feeling my own juices flow.  For me, natural wetness gives me the most pleasurable experience.  Although coconut oil is a close second, spit or synthetic lubes do not come close.
Yesterday I woke Ryan up. This may not be such a big deal, but it was Sunday and 11 o'clock in the morning. I was getting anxious because I like to watch football with him. You know, so I could rub in the fact that I will most likely be the winner in our Fantasy Football league. I got under the covers as Ryan was still asleep. I reached down and noticed that he was completely rock hard under his boxer briefs. Again, this is probably not a big deal, but since he was dead asleep, I decided to take advantage of him.
I pulled his boxer briefs down so that I could see his entire length in my hands. I spent the next few minutes looking at it and wondering why it was so hard. I know about guys waking up with boners, but it's still neat to look at in the flesh. I pulled the comforter off and straddled him as I nuzzled his neck. The smell of his deodorant radiated. It's so nice knowing that he's always so nice and clean for me. Carefully, I maneuvered the tip of his dick between my vagina lips, moving it back and forth, but not quite putting it inside my body. I teased him by letting his head rest right at my hole before letting my lips rub against the underside of his cock from his balls to the tip. He would moan a little and tried to move his body so his penis would slide inside my hole.  "Don't move," I ordered. He wanted so bad to put himself inside me. But it was feeling too good. I kept grinding on him in a way that tickled my clit. It felt like a long tongue moving over my pussy, with pressure and wetness.
I sat halfway up with my hands on his chest. I wiggled my hips and only let the head of his penis penetrate my vagina.  I then slowly moved up and down letting his head enter and exit my body.  Each time it enters I can feel my labia and inner walls stretch. While exiting, it pops out, like a large plug and my lips and walls immediately close and tighten. Over the next few minutes I worked my way down, moving only a few millimeters at a time. I finally eased down, my ass hole touching his full balls. He was so hard that it started to hurt my inner bone behind my clit if I stayed in that halfway sitting angle. Quickly and with him still in me, I moved my body back toward toward his feet. I do this because it takes the pressure off his penis pushing against my cervix. I then put my hands on his knees and leaned back a few inches to alleviate the pressure from my inner bone. At this point, all that pressure is focused on a tiny little spot that I can only assume is near the G-spot area. Ryan has roughly played with this area with his fingers and caused me to squirt (but that's another blog!) I rock my pelvis in a circular motion mocking the same type of stimulation his fingers create. My thighs opened and closed as swayed on his hard cock. Ryan released his hook hold from under my calves and grabbed my breasts. He pinched my nipples between his fingers and a shock ran up my body. He moaned quietly as we both felt the wetness seep out of my pussy onto his balls, and eventually, onto the bed.
He grabbed my ass cheeks and dug his nails into them. I bounced on his hard dick, feeling the pain as it shot up through my cervix. I repeated the self-milking process again. The mattress was damp and I love that I can do that to myself.
I planted my feet at his sides and grabbed onto his neck. He knew that it was time for me to get fucked. He lifted me up and lay me down. He put my legs on his shoulders and thrusted his hips slow and deep. The arches of my feet cradled his face and shoulders perfectly. I rubbed his chest, letting my fingers graze his nipples as I passed over them. There was just enough light coming through the east-facing window to create enough of a shadow over his chest; his muscles protruded in his sides as he flexed with each movement. "You're so sexy, Ryan."
"Thank you," he told me, his eyes still closed.
The goosebumps formed on his arms and chest, and I knew he was ready to cum. "Not yet," I told him. He slowed his pace and the tiny bumps on his arms disappeared. Moments later they reappeared, and I, once again, told him, "Not yet." I don't consider this torture because he loves knowing that his dick pleases me, and if I don't want him to cum, it means he's doing his job right. He prefers being edged in this manner when I am high off the feeling of his cock. And we have talked about making sure I communicate with him to hold off his orgasm until I orgasm or the high feeling slowly disappears.   So he waits until I allow him to finish.
After about 10 minutes, I hint to him that I want his cum, "I can't wait to feel your cum all over me."  This is one of our many cues that I am ready to see him orgasm from the feeling my body gives him.  I felt him slightly raise up to start pumping and almost immediately the goosebumps started to form again. I screamed as his cock felt like it was piercing my cervix while it rubbed my inner bone. He quickly stood completely up over me with his dick in his hands stroking above my body.  I watched as he shot his sticky hot load all over my body.  Because he stood up, his cum was everywhere. I  quickly scooped up his cum off my breasts, neck, cheeks, and stomach and licked it off my fingers like I always do. He extended his hand out to me and helped me get up. I winced.
"What's wrong?" he asked. After I explained to him that I get a vomitous feeling if my cervix gets abused that way, a feeling that comes from the inside the way a stomach virus erupts.  It literally feels like a self-induced vomit feeling.  He turned and smiled at me: "Nice."
I love the way he fucks me.
TAGS: Wet vagina, wet vagina, wet vagina, wet pussy, wet lips, wet clit, soaking vagina