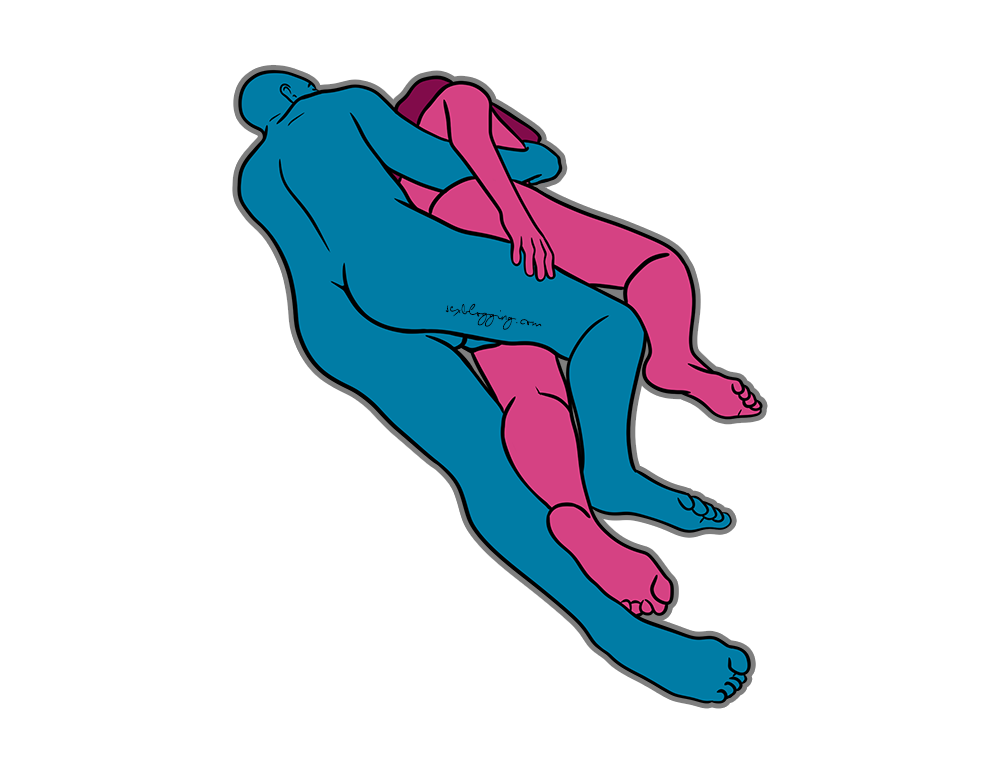 Spooning is a classic cuddle position most couples practice. Much like our Little Spoon position we previously shared, both partners are faced in the same direction. Because most of the time the man is larger, it is easier for him to play the position of big spoon from the back. The man can hold the woman's leg, her stomach, rest his fingers between her legs, or cup her breasts.
Spoon /spo͞on/ (of two people) behave in an amorous way; kiss and cuddle. A form of cuddling where a person wraps their arms around their partner. The legs may be stacked or intertwined. The person on the outside is referred to as the "big spoon" while the person inside is the "little spoon." But with this type of cuddling, height, gender, and body shape don't matter.
We have learned a lot of techniques while spooning. The man can scoot up next the woman and grab his flaccid penis and lay it across the woman's vagina. He can then lift his knee up and hold the penis against her vagina. If erect, the man can penetrate the woman and then allow his penis to go flaccid. Depending on length, the flaccid penis can rest inside the woman all night in the spoon position.
Pros & Cons
+ A comfortable position most couples naturally practice daily when going to sleep together.
+ Various techniques to hold the penis against your partner's body or inside her.
---
Why is Cuddling so important?
When you cuddle with someone you care about, your body releases a hormone called oxytocin that calms you and makes you more likely to deal better with stress. Cuddling also has a large connection with being nurtured. It has been shown through research that cuddling helps an infant develop an attachment to his/her parent. This is instinctual and as you grow older, adults can cuddle to form this same attachment. Cuddling has also been shown to boost an infant's oxygen levels, calm its breathing, and ease pain signals. And for an underweight baby, it raises survival chances by more than a third. It helps the brain grow and makes infection and other illnesses, like hypoglycemia or hypothermia, less likely. This is why we love to cuddle.
Ease Stress

When you cuddle with someone you care about, your body releases a hormone called oxytocin that calms you and makes you more likely to deal better with stress.

Helps Your Heart

It's good for your heart. Cuddling lowers blood pressure. Scientists say it's clearer that women get this benefit from cuddling, but it seems to be true for both sexes.

Relieves Pain

A good cuddle may give you more than just moral support after an injury. The oxytocin cuddling releases can help block pain signals.

Fight Colds

Too much stress effects the immune system. Hugs from people you trust may protect you against this common virus, especially if you're under a lot of stress. And if you're already sick, more cuddling might keep your symptoms from getting worse.

Connects You to Your Partner

Oxytocin is sometimes called the love hormone. Whether having sex, cuddling, touching, dancing, or holding hands, your body is releasing oxytocin. Couples who cuddle and kiss freely tend to be happier, healthier, and less stressed.

Helps You Sleep

Oxytocin is the key ingredient again. Because of oxytocin calming effects, it relaxes you and helps you sleep.
---
All artwork is original and created by sexblogging.com. If you would like to work with us on a custom project, please Contact Us. We can provide custom illustrations for various projects, books, blogs, erotic stories, and games.